The Switch Specialist
Manufacturers since 1953
Who we are
As the switch specialist, we design and manufacture low voltage switchgear solutions. We anticipate our customers' needs and offer electromechanical products for industrial applications, utilities, railway and green energy sector.
Telergon is an innovative, customer orientated firm and we are strongly committed to R&D as a tool to boost the future of the industry. Due to this attitude, the company offers a wide range of standard products but also the possibility to customize them according to special requirements.
Our knowledge, acquired through an experience of more than 65 years, together with the involvement of its highly qualified professionals, has allowed Telergon to be present in more than100 countries, always providing the best service and working under the strictest quality standards.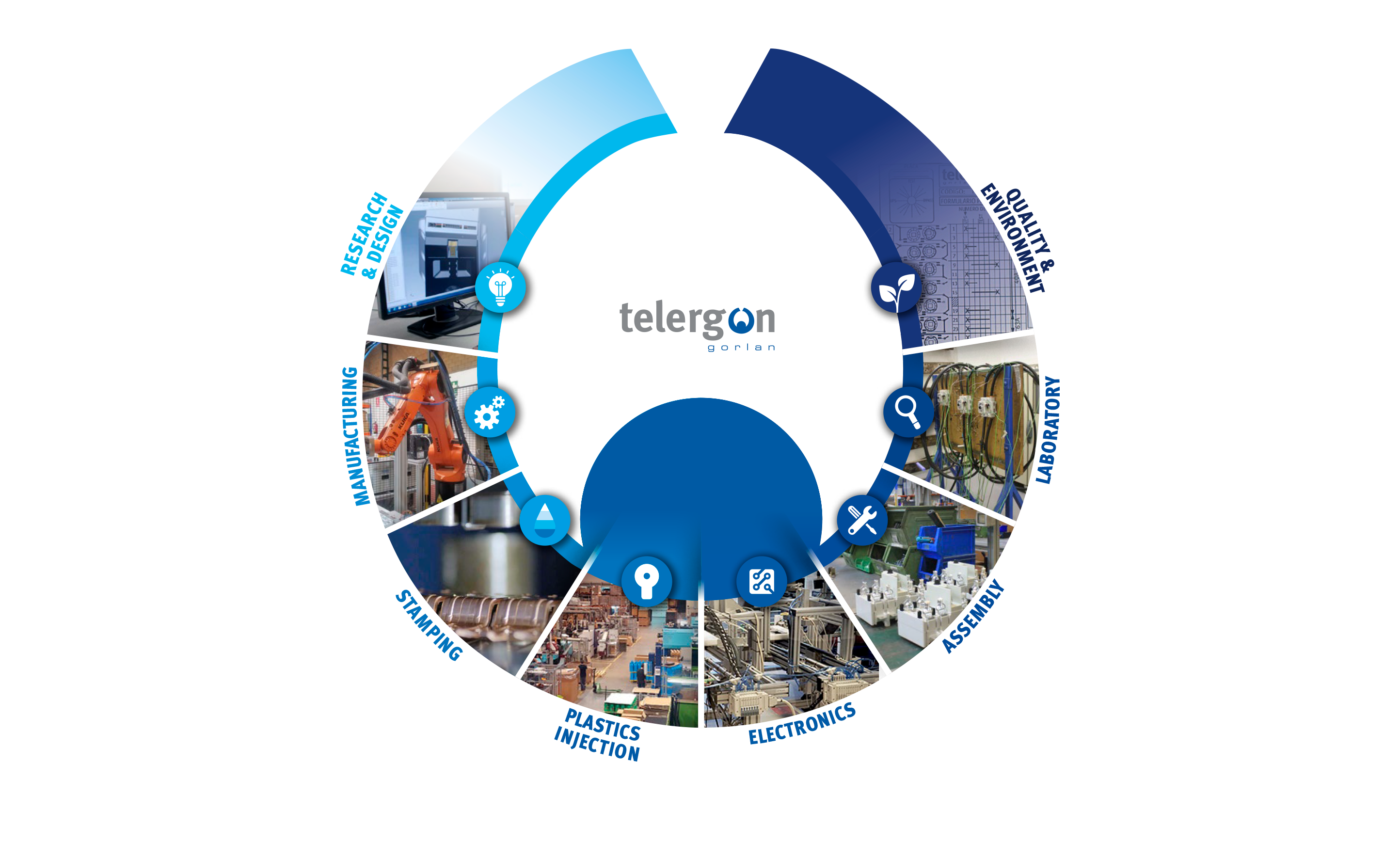 History

As a manufacturer and a company specialised in product design since 1953, we have extensive experience in the sector. Every year we work on our continuous improvement, and on offering the best service and quality products to our customers. We continue to grow internationally, being present in more than 100 countries and with a strong consolidation in our national market. Thanks to all the commitment of our team and the trust of our customers, we have been in continuous growth since our beginnings. Our main objective is to take care of our customers and employees in order to continue growing together.
Skip history
1962
Cam switch and special schemes launching
1978
Our first AC switch-disconnector series S-5000 launching (current S5)
1980
Our first changeover switches range launching
1995
First switch fuses series M11 – M21
1998
Merger with Italian Vemer Group. ISO 9001 Certificate approval
2001
Excellence Performance Award for SMEs. ISO 14001 Certificate approval. Motorized changeover switch launching
2005
Date of integration Gorlan Group
2006
S6 Launching. New laboratory for tests and new section for pressing of metal component. Photovoltaic sector entry.
2012
New range of ergonomic handle
2014
New generation of switch-disconnectors
2015
Railway sector entry, with the acquisition of the company BIHPLAT
2019
CEC Launching, compact changeover switch
2020
S7 launching, DC solution for photovoltaic
2021
M3 launching, New range of switch-fuses
Mission
To design and manufacture low voltage switchgear solutions, maintaining our position as specialists in quality switch-disconnectors and with sustainable, profitable and committed growth. To understand the expectations of our customers (internal and external) and our suppliers, in order to deliver products and services to their complete satisfaction. Boosting a continuous improvement and innovation to maintain our competitiveness and improve performance.
Vision
To be the leading specialist manufacturer of low voltage switchgear solutions, with the widest range on the market, being the best option for our customers in terms of cost and service. To promote and strengthen the increase of our international presence, with the development of new products and markets. To have optimal internal communication, through teamwork, commitment, information flow and training. The customer is always the most important thing; thus, we work to respond to those factors that need and benefit them. We have our own sales force, with highly qualified technical knowledge, and also with a fantastic technical team capable of carrying out customized projects adapted to any need.
The customer is our focus, to whom we offer the best product / quality / price. Customer satisfaction and flexibility are the main pillars of our business.
Innovation
We have a large team of excellent professionals. A strong commitment to R&D&I makes it possible to work continuously to anticipate with innovative responses, provide competitive solutions to every customer need and improve the product.
In addition to carrying out tests and technical validations in specialised laboratories, we have our own laboratory and innovation observatory.
Quality
We comply with ISO 9001 and 14001 quality standards and management systems and the most demanding product certifications: CE, IEC, IEL, UL, CCC, among others.
We implement quality testers in all our production processes (during and at the end of the line) and we have our own quality team, which also works on a continuous review of internal processes.