Electrical mobility, the new sustainable future
The electrification of transport is key to the decarbonization of the economy by 2050 and for the implementation of the sustainable development goals. The transport sector is responsible for 35% of national greenhouse gas emissions as well as for the deterioration of air quality and noise levels in populations.
The exponential growth trend of the sector worldwide estimates that the market value will reach USD 735.80 billion in 2027, registering a growth rate of 23.15% in the period 2020-2027. In addition, the rise of photovoltaic and energy storage is making electrical mobility increasingly efficient and optimized.
What are the components of an electrical mobility system?
In fast or ultra-fast charge stations, a typical configuration is using a central power unit or charging station where several DC dispensers are connected to recharge the electric vehicle or bus. It can receive charge from the grid and convert it to DC o directly receive DC power from photovoltaic panels or energy storage systems.
In slow charging points, chargers are often connected to the centralised metering system (domestic use) for charging a small number of vehicles.

Finally, projects and pilot tests are being carried out for so-called dynamic wireless charging, which involves charging vehicles on the move using electrified rails on the roads. There are also already transport vehicles, such as trains, buses and trams, which use their internally installed energy storage batteries to collect energy and charge the vehicle during the journey.
AC Switch-disconnectors
DC
Switch-disconnectors
Modular ZFV / ZFC
Up to 65 A 1000 Vdc & 1500 Vdc
Compact size
S5 / S5N / S6
Up to 3150 A 1000 Vdc
Different configurations
Available according to UL98B (250 & 400 A)
S7: NEW LAUNCH
Up to 500 A | 1500 V
Advanced loading technology with magnetic blowing
Pure 2P
Maximized electrical performance and high safety leve
S6R, S5M & S5N
160-1800 A
1500 V DC21B
1P & 2P or 4P+4P versions with different configurations
Isolation Only | S5 & S6
160-3150 A
1500 V DC21B
Signaling and control by auxiliary contacts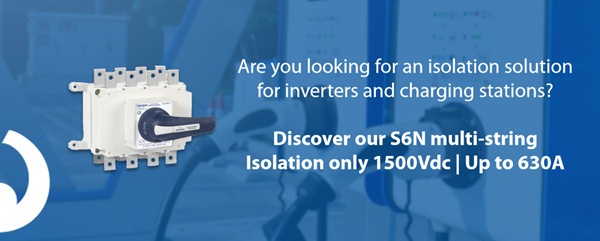 Maximum switching performance in a small size
Independent switching of up to 8P with one single handle
Optimal and simultaneous maintenance of different charging stations of electrical vehicles