Specialised engineering solutions for railway applications
Telergon has more than 60 years of experience and know-how in railway solutions. Thanks to the acquisition of Bihplat in 2015, we offer extensive knowledge and capacity in the design and manufacture of solutions for rail vehicles, in standard or customised format to each customer and need.
This has earned us the trust of more than a hundred projects around the world, offering adapted and customised solutions for metro, tram, train and locomotive applications. 
 Our products are subject to strict quality controls and offer high reliability and optimum performance. These include cam switches and changeover switches for rolling stock, adapted to a wide range of safety keys (Dormakaba, Assa Aboy and Dom, among other brands) and  they are waterproof, shock/vibration and climatic tested.

In addition, we have AC and DC railway solutions for traction and electrical safety: complete earthing systems (disconnectors, pneumatic valves, key multiplier, locking), switches, selectors, disconnectors, etc.
Featured solutions: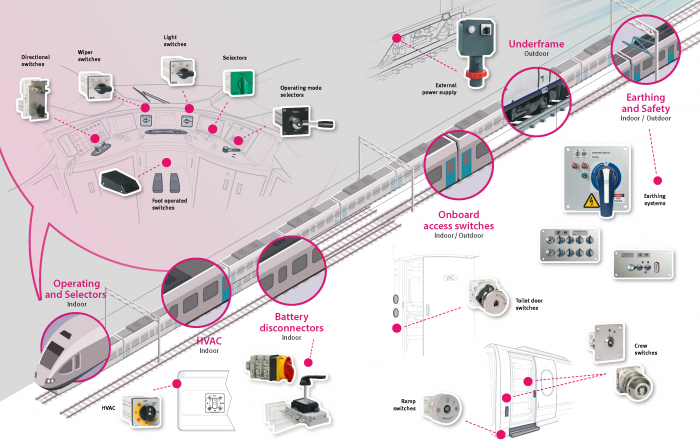 Driver's cab selectors:

Cam switches: extensive adaptation to cylinders and security keys.
Light and wiper selectors: customised electrical diagram and inscriptions.
Foot-operated switches: compact and versatile dead man's foot switch in black, yellow and red. Different ranges, all with metal enclosure, and with special electrical configurations.

HVAC:

Plates design with different configurations depending on the needs.
Onboard access switches: ramp, toilet or crew switches. Modular design for operation by square, triangular and commercial security keys, for indoor and outdoor access.
Earthing systems: up to 16 poles earthing switches 1500VDC in robust, compact and light weight design. Safety devices with key interlocking: pneumatic valves, key multipliers and door locks. ON-OFF or I – II functions.
Battery disconnectors: For load and off-load applications (isolation only). Can be adapted to special electrical diagrams.
Underframe: AC/DC Power supply combinations, plugs and sockets mounted in plastic or metallic enclosures.
Are you looking for a specialised and customised solution for your railway project? Contact us and tell us your requirements
Back to news