Switch-disconnectors range for PV installations 1500 V DC
Photovoltaic will grow by 13% per year globally until 2030 with increasing needs in terms of safety and security to ensure proper operation and maintenance. Our goal: to accompany the development of utility scale PV installations with innovative, efficient and everlasting technologies.
This approach is precisely what has led us to acquire precise expertise in the development of switching and protection solutions for DC. Among them, our switch-disconnectors for photovoltaic installations 1500  V DC (combiner boxes and inverters), stand out. Manufactured with high safety self- extinguishing materials, our full product range provides an excellent level of electrical insulation, low smoke emissions and high resistance to electromechanical stress.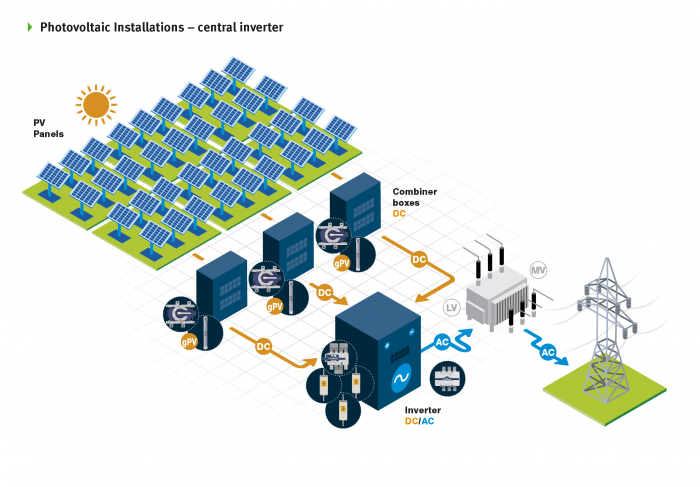 Switch-disconnectors for PV installations
2P | From 400 A up to 500 A | 1500 V DC21B
New high-performance switch-disconnector with advanced magnetic overlap cut-off technology and magnet incorporation

1P+1P | From 125 A up to 400 A | 1500 V DC21B
Back to back arrangement and available in different configurations.

4P+4P | From 500 A up to 1800 A | 1500 V DC21B
Switch-disconnectors for PV installations with parallel arrangement and addressed to solutions that require a high amperage.

1P & 2P | From 200 A up to 500 | 1500 V DC21B
1P & 2P | From 200 A up to 400 A | 1500 V UL98B
High performance switch-disconnector equipped with SERPA TEC patented technology, that prevents electrical arc damage to the main contacts and maintain a stable resistance. Bridging links and heat sinks are not required, so it offers a quick installation. It is available in different configurations.

Modular switch-disconnectors for DC, available from 16A to 55A for 1500 Vdc. Also available in plastic enclosure solution (1000Vdc). Application category DC21B.

DIN rail base mounting with direct handle
Door mounting with padlockable handle
Plastic enclosed
Many companies in the sector already rely on Telergon for their large 1500Vdc photovoltaic installations. Our experience, quality and customers back us up.