CEC, compact changeover switch for low amperage applications
A compact changeover switch with a fully optimized performance. This is our changeover CEC series, the best alternative for low amperage applications.
Available from 63A to 125A and in 3P and 3P+N versions, changeover switch has been conceived from its origin as a pure changeover. Its design is based on a modular concept, which allows its size to be adjusted according to the required configuration, in addition to offer a high electrical performance.
Its footprint is a 58% smaller than the previuous range (S5L), and up to 125% smaller than other models. Its compact changeover switch takes up very little space, making it easy to install and assemble.
Another benefit is the reduction of the installation costs, both from the point of view of time and material. Thanks to the facts that it does not need bridging links, it can be mounted in all orientations and it offers multiple mounting configurations because of its movable legs. In addition, the use of captive nut allows for a one-handed wire installation process, simplifying the operation.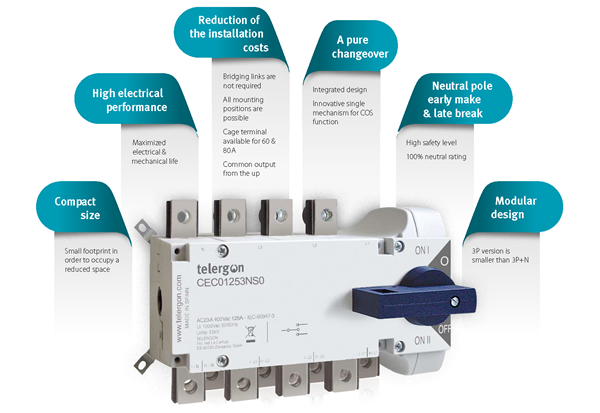 If you wish further information about this product, do not hesitate to contact with our Export Sales Department.
Back to news