AC solutions for industrial applications
Within the industrial sector, the applications of our products are multiplying. Thanks to our wide range of AC solutions for industrial applications, we adapt to the needs of switchgear manufacturers and OEMs in different sub-sectors:
HVAC
Motor Control Centres
UPS, data centres
Voltage stabilizers
Drives / Soft starters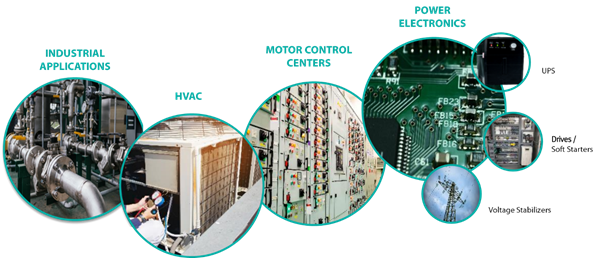 As a manufacturer with almost 70 years of experience, we develop solutions the perfect solution for every need and project, guaranteeing high-quality products easy to apply and operate. In addition, thanks to our engineering team and our investment in R&D, we can customise bespoke solutions, both in wiring diagrams and accessories.
Our manufacturing processes are equipped with automatic testers for mechanical specifications (tightening torque, position of parts…) and electrical specifications (dielectric test…), which guarantee quality, efficient and safe products.
Moreover, our high-performance product range has a high load-break capacity, safe short-circuit behaviour and a high number of cycles.

Our AC solutions for industrial applications
Cam switches available in different construction models and diagrams
From 10A up to 1200A
1P – 12P
Bespoke solutions

Door and base mounting
Reduced size
20A up to 125 A
3P, 3P+N, 6P & 8P

40A up to 6300 A
3P, 3P+N, 6P & 8P
Manual and motorized

63A up to 3150A
3P & 3P+N
High load-break capacity
Manual and motorized

Switch-disconnectors and changeover switches in metallic or plastic solutions
Designed for duty applications
IP65

Back to news